Obituary for William A. Alexander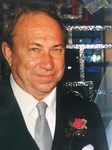 William A. Alexander, Sr., 89, of Huntingdon Valley, passed away peacefully on October 5, 2017. He was born in Frankford, IN to Mary (Forcier) and Arthur Alexander. Bill is survived by his loving wife of 63 years, Dorothy (Meyer); his children, Susan Mischenko (Phil), William A., Jr., (Liz), John (Roseanne), James (Janice), Richard (Sandy), Barbara Tomlinson, Dorothy Mahoney, Joanne Felix, Thomas, and Mark (Marissa); 39 grandchildren; 12 great-grandchildren; and his sister, Mary Graham. Bill was preceded in death by his daughter, Nancy Horner.



His passions included singing and listening to Frank Sinatra, history, golf, tennis, basketball, and coaching. He will be remembered by his silly puns and infectious ability to make people laugh and his enormous love for his family. He was an educator for over 40 years in the North Penn and Rockledge School District where he started out as a teacher and continued on to become an administrator. He was extremely active at Our Lady of Good Counsel Parish as a Eucharistic minister and a choir member. For those who have met him will remember his smile, his blue eyes, his sharp memory, and his ability to make people feel special.



Bill's family will receive relatives and friends on Mon. Oct. 9, 2017 from 6 to 8:00PM at James J.McGhee Funeral Home, 690 Belmont Ave., Southampton, PA. A vigil service will begin at 8:00PM. 2nd Visitation will be on Tues. Oct.10th from 10 to 11:00AM at Our Lady of Good Counsel Church, 611 Knowles Ave., Southampton, PA. A Mass of Christian Burial will be celebrated at 11:00AM. Interment will be at Resurrection Cemetery in Bensalem. In lieu of flowers, the Alexander family has requested donations in Bill's name be made to Abington-Jefferson Hospice, 225 Newtown Rd., 2nd Floor, Warminster, PA 18974.